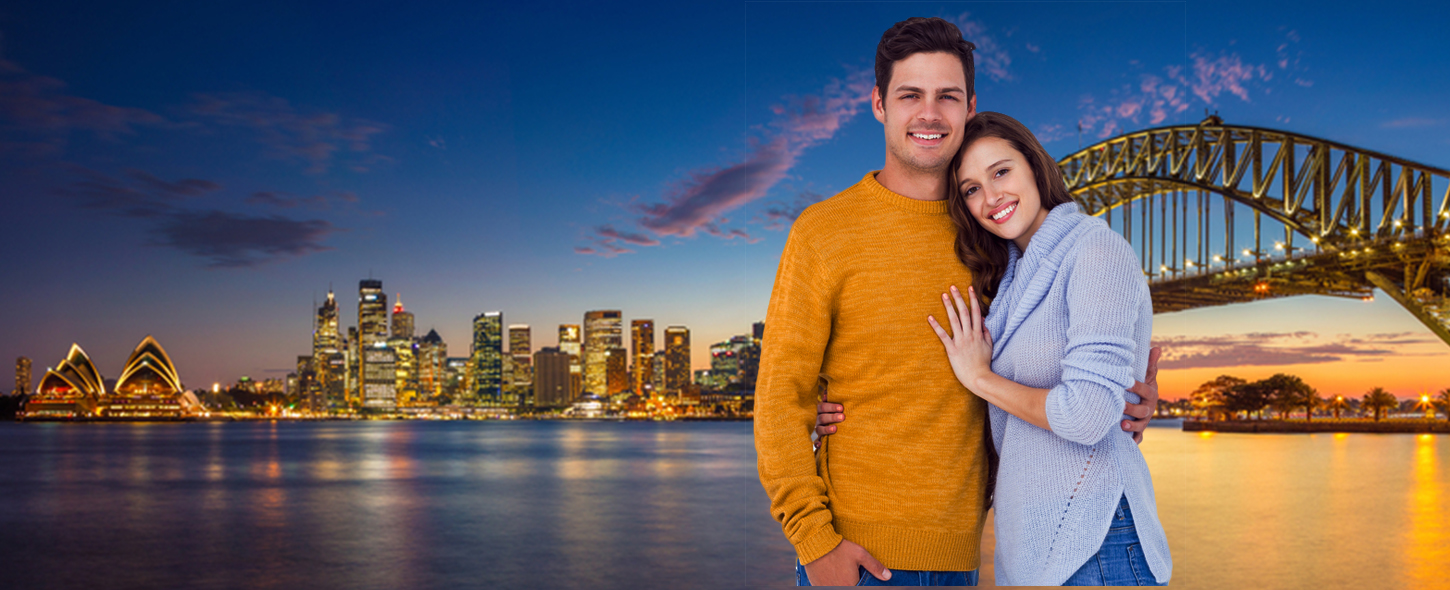 BEGIN A REPLACEMENT LIFE IN AUSTRALIA
With sunny beaches, spirited cities and a hospitable culture, Australia is one in all the planet's most desired migration destinations. Qualified professionals from across the world are flocking to Australia for its great quality of life and stable economic prospects. Associate in Nursing English speaking country, Australia isn't simply straightforward to assimilate into however additionally encompasses a additional cosmopolitan culture because of a big migrant population.It's desirable subject edges and progressive policies build it a good destination to settle together with your family.
WHY MUST YOU SETTLE IN AUSTRALIA?
• Stable economy with jobs across IT, service, healthcare, education and engineering sectors
• Citizen initial policies together with free care Associate in Nursing education
• A favourable climate with lots of sunshine
• Beautiful, doctrine cities that enhance your quality of life
• Large natural heritage including the good coral reef and unspoiled forests
HOW TO SETTLE IN AUSTRALIA?
Australia's pioneering immigration department has efficient the appliance method to scale back process time. However, a comprehensive and correct application package is important to taking advantage of this. With an infatuated Australia migration team coordinate axis has the knowledge and knowledge to assist you file an application with the best possibilities of success. Our team of RMA certified professionals in our Australian partner workplace will assess your application and assist you file it with confidence.
WHO IS ELIGIBLE TO APPLY TO AUSTRALIA?
While every application emigrate to Australia has distinct criteria, there are some matters in common.
Education
Experience
PTE Score
Documents & Proofs
TOP JOBS IN AUSTRALIA
Here is a listing of the pinnacle five industries wherein process potentialities are good. The projected process boom withinside the subsequent 3 years is likewise included:
Healthcare and Social Assistance-14.9%
Construction-10%
Education and Training-11.2%
Professional, Scientific and Technical Services-10.2%
Accommodation and meals services-9.1%
It is projected that each 2 out of three process possibilities will come from those sectors.
AUSTRALIA IMMIGRATION PROCESS
S.No
Details
Visa Subclass
189
190
491
482
1
PR Visa Validity
5 years
5 years
–
–
2
Occupation should be listed
Yes
Yes
Yes
Yes
3
Family visa
Yes
Yes
Yes
Yes
4
Education, Employment, English requirements
Yes
Yes
Yes
Yes
5
Sponsored by
–
State
Regional State
 Employer
6
PR Eligibility
–
It is a PR. However applicants have to stay 2 yrs in sponsored state
Work for 3 years in 5 years with at least minimum taxable salary of AUD53, 900 P.A in Regional Areas to convert to PR
Based on the eligibility
7
Temporary visa
–
–
5 Years. Applicant can move between the regions
2 – 4 Years
8
Priority Processing
N/A
N/A
Applicable
N/A
9
Applicant can enroll to Medicare
Yes
Yes
Yes
No
Stages of Process & Timelines:
1
Skills assessment
2-3 months
2-3 months
2-3 months
2-3 months
2
EOI
Yes
Yes
Yes
–
3
State sponsorship
2-3 months
2-3 months
2-3 months
2-3 months – Employer nomination
4
Process Timelines
4-8 months
4-8 months
4-6 months
4-6 months